Water Damage Ontario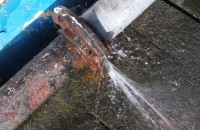 Ontario, California is named after the Canadian province, and was first settled by three brothers from Canada in 1882. The area has a semi-arid climate, with very hot summers and most rainfall concentrated in the winter months. February is historically Ontario's rainiest time, with an average of over four inches of rainfall. Even though yearly rainfall is relatively low, homeowners in Ontario still experience water damage from storms and rain leaks in addition to the usual plumbing problems that no one is safe from.
Maintenance and Prevention
Gutters and downspouts require regular maintenance to be most effective. They must be clean without any clutter to lower the risk of water damage.
Irrigation systems also cause water damage when they do not operate efficiently. Our technicians will be needed when an irrigation system has problems. The technician will inspect the system for a leak. A leak can waste more than 100 gallons of water each day in a quiet manner. An inefficient irrigation system can cause major water damage. We also tackle water line leaks caused by plumbing problems, such as a pipe burst.
Outside water can also gain access to the home through windows. Windows should be inspected routinely for weaknesses and weatherstripping and resealing should be done as needed, especially before a rainy winter season.
Homeowners must also consider appliance maintenance because appliances also cause water damage. Common devices such as washing machine, a water heater, and a refrigerator can have leaks. These devices must be inspected by a skilled technician often.
Our Services
Our water damage Ontario company has over 35 years of experience handling water damage projects. We are licensed, insured & bonded. Customers can use our services whenever they have issues because we are available 24/7. We never leave customers waiting long for our service with our 45 minute maximum response time.
We value professionalism, and we always put the customer first. All services are offered at an affordable price, and our customers appreciate this. We provide a free inspection before we tackle the project and will answer all of your questions about our plan and our process. We also work will all insurance companies, and we offer same day service for water emergencies.