About 911 Restoration of Ontario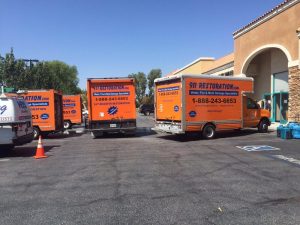 The experts with 911 Restoration Ontario are some of the most trusted professionals in the community for all things home related.
These folks embody the best that a home services and rejuvenation company has to offer, and they do it with a friendly smile too. Though they do always make sure to put the customer first through every job they take on.
If your home or office is already taking on flood waters, then don't wait another second to get in touch with our water damage restoration team with 911 Restoration Ontario today!
Preventing Catastrophes
Here are some prevention tips:
When it comes to alleviating the effects of a crisis that has already occurred, be it water damage, sewage issues or anything else, our teams are first to the scene, but they are also contacted regularly from people who are looking for advice too.
Trim the trees around your home or office so that if there are any dead limbs or branches that they can't come down and impale your home during storms.
Make sure to check the hoses and fittings on your appliances that are connected to the water line. These can experience wear and tear and over the years they may fail.
Check on the shingles atop your roof to make sure that none are missing, misplaced, or damaged in any way. When put under the pressure of high wind or rain, these spots can be a huge source of water damage in the home.
Take the time to clean out your gutters at least once a year to avoid overflows that might inundate your roof and spread apart the protective layers that keep your home dry.
These are some of the more common catastrophes and the ways to prevent them, but there are plenty of others, so if you have questions feel free to contact us for advice.
Don't let a ceiling leak, massive flood, or sewage incident ruin your home without first getting help from the experts. Contact our water damage Ontario team with 911 Restoration Ontario for immediate help today!
Specifics Of Restoration Work Defined
When it comes to saving homes and businesses from the ill effects of flooding, ceiling leaks, pipe burst, or any other form of catastrophe, there is no one more prepared than our experts with 911 Restoration Ontario for the job.
Our technicians know that the best way to mitigate the effects of any kind of disaster is to be at the scene of the event quickly and with the right tools for the situation.
We make sure to arrive within 45 minutes of a distress call so that we can begin to immediately extract water, eliminate mold, remove sewage or whatever other restorative need the job requires.
Our technicians are also available 24/7/365 so no matter what, they can be at the scene of the damage and get to work quickly to prevent the losses from increasing due to stagnation.
We are determined to always put the customer first when it comes to any project we take on, and that is why we are totally dedicated to professionalism with everything we do.
If your home or storefront is already dealing with an invasion of flood waters, or any other disaster, then contact our water damage restoration Ontario team with 911 Restoration Ontario for help today!