Sewage Backup & Cleanup Ontario
Solving the challenges presented by a black water intrusion, a toilet overflow or a category two water crisis is difficult and challenging work, and that is why people rely on the know-how of our sewage backup cleanup Ontario experts with 911 Restoration Ontario to eliminate it for them.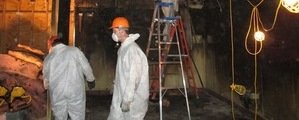 Our team knows that the best way to make sure that the losses experienced initially after a sewage backup don't get any worse is to be at the scene immediately with the right tools for the job.
To take total care of our clients we will arrive within 45 minutes of your call for help so that we can begin to take on the chaos for you as fast as possible.
Moreover we are also available 24/7/365 for whatever crises arise in your home or business, and this way even if a pipe bursts in the middle of the night, we can be there for you rapidly.
If your home or store location is already amid a black water flood of some sort, then don't wait another minute to get in touch with our sewage backup cleanup Ontario team with 911 Restoration Ontario today!
Sewage Backup And Black Water Prevention Tips
When it comes to the nature of a gray or black water invasion into your home, the people trust in our professional ability to eliminate it, but they also contact us for help preventing such instances too.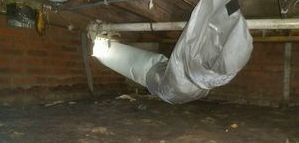 Here are some ways to prevent sewage backup:
Never place anything into your plumbing system that it was not specifically designed to easily evacuate. This can include multi-ply as well as products that advertise as biodegradable.
Make sure to test your sump pumps, or have an expert do so at least once a year or two to ensure they won't fail when you need them the most.
Test your sewage backflow valve to verify that it works perfectly so that you don't experience an unnecessary backup in your home.
Have a plumbing expert or restoration professional inspect your whole system at least once every few years so that any small obstructions can be found and eliminated quickly.
These are some of the most common reasons that homeowners experience sewage backup scenarios in their home, but these are not all. If you have a question that wasn't addressed here, then be sure to contact our team for advice.
Don't let your home or office fall victim to the effects of black water intruding. Contact our sewage backup cleanup Ontario experts with 911 Restoration Ontario for immediate relief today!
Sewage Backup Cleanup Scenarios Explained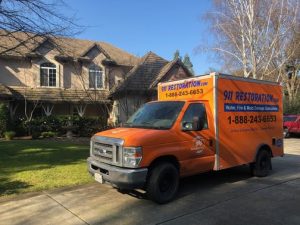 Many times home and business owners don't expect to ever have to deal with a sewage situation in their property, and rightly so, as these events are rare.
But on occasion, even at the municipal level, mistakes happen, and when they do, they can greatly affect the harmony of your property.
When a sewage backup occurs, our team will even help out our clients with all of the insurance paperwork so that they don't have too much stress to deal with all at once.
Taking on projects that others are afraid of is our milieu and we take great pride in our ability to always put the customer first.
We are totally dedicated to professionalism, so if you want help with all of your gray water needs, then contact our sewage backup cleanup Ontario team with 911 Restoration Ontario for immediate assistance today!
Serving the communities of Alta Loma, Amador, Arrowhead Farm, Artesia, Canyon Lake, Chino, Diamond Bar, Declezville, Devore Heights, Eastvale, Hemet, Jurupa Valley, Kaiser, La Verne, Mira Luna, Moreno Valley, Montclair, Murrieta, Narod, Pomona, Rancho Cucamonga, San Dimas, Temecula, Upland, Walnut, Yucaipa and surrounding areas.