What Should You Do When Your Drain Clogs?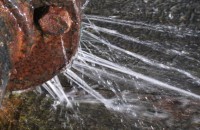 Clogged drains are one of the most common problems in any household. Average homeowners spend a lot of time and energy keeping their drains running smoothly. The worst part is that no matter what we do about it, drains are going to get clogged over time and water damage can happen all too easily. Common Culprits of Household Clogs Depending on where in your house a clog happens, the culprit differs. For example, skin, hair and grime are usually the two biggest culprits in bathrooms. In the kitchen, the most common culprit for a clog is grease and small food particles. DIY Fixes If you are anything like me, you want to handle clogs yourself. There are plenty of do-it-yourself products on the market today that can help you do just that. The three most popular ones are plungers, chemical drain cleaners and sewer snakes. Each one works better for certain kinds of clogs. For example, plungers work well at forcing small particles down the drain. Sewer snakes are fantastic for removing hair, and nothing cuts through grime and grease like chemical drain cleaners. Pros and Cons of Chemical Drain Cleaners Although sewer snakes and plungers work well enough, most people turn right to chemical drain cleaners to rid themselves of clogs. This is because chemical drain cleaners are marketed as the "fix it all" of the clog world. In some cases they are, but they can actually cause more damage! Below are some of the pros and cons to consider when it comes to chemical drain cleaners. Pros:
Great at removing grime and grease.
Some formulas are tough enough to dissolve hair clogs.
Come in many different styles, including liquid and gel. The gel cleaners remove clogs from drains even when standing water is already in the skin or tub.
Cons:
In some cases, old pipes can be destroyed by chemical drain cleaners. This can cause pipe leaks and a serious need for a water damage restoration professional to restore your floors and cabinets.
Chemicals are always dangerous to keep around the house. If it gets in your eyes or in your mouth, it can cause a lot of pain or even make you sick.
Preventing Clogs Although clogs can never be prevented altogether, there are certain things that we can do to prevent clogs from happening often. For example, never pour grease down your kitchen drain. This leads to buildup and eventually clogs. Also, avoid allowing as much hair as possible go down your drain when in the shower. This can be prevented by getting a drain cover. Many home improvement stores sell drain covers that can catch hair before it goes down the drain. After every shower, simply remove the hair from this cover and you're ready to go! Professional Plumbers We all like to think that we can handle any plumbing job ourselves, but the truth is … sometimes we need to call in a professional! If you have old pipes that are too weak to use drain cleaner, it is best to call in a professional. Also, if your plumbing emergency is starting to flood or spill out onto the floor, you need to deal with the problem quickly and efficiently. That is when professional plumbers come into play. Pipes that leak or drains that clog and overflow the sink can lead to water damage on your floor. Also, if the problem goes untreated long enough, you could be looking at dangerous mold growth. Last, but not least, if you use a bottle of chemical clog remover and it does not help, you may be looking at a much bigger problem. It is important to call a plumber before it gets any worse.